Dedicated to Wildlife Gardens & Sustainable Landscapes
Providing the Highest Quality
Container Grown Native Plants
Available to Homeowners, Businesses
and Organizations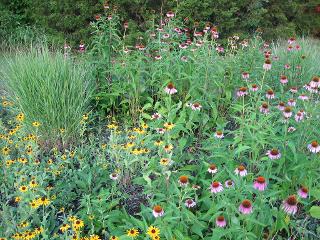 Due to the COVID-19 Crisis, we have moved our opening day at the Columbia Farmers' Market to Saturday April 4th (subject to change). Unfortunately, the native plant sales hosted by the Missouri Prairie Foundation at Runge Conservation Nature Center and MU Bradford Research Center have been cancelled. As well, the Birds & Bees Festival in Arrow Rock has been cancelled.
We are looking forward to seeing everyone at our regular retail markets as soon as it is safe for everyone to be congregating and shopping together.
We are still providing our delivery services in the 65201, 65202, & 65203 Columbia area.
(c)2017-2020 SunRise Gardens LLC. All Rights Reserved